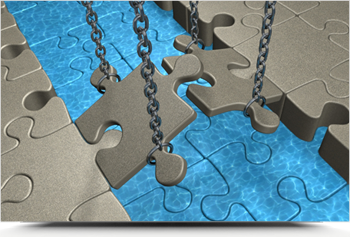 It's estimated that managers spend between 30 and 40 per cent of their day dealing with conflicts in the workplace. Whether it's between employees, employees and managers, between departments, or even between companies – there's no end to the tensions and trials that can erupt all in a day's business.
But it's understandable that, with a group of people working together in an organisation possessing different personalities, views, values and responsibilities, conflict is going to arise from time to time.
"With so much time wasted, this inevitably has an impact on productivity, not to mention company morale," says Blaise.
Conflict, says Blaise, can arise for many reasons. These reasons include when two or more people disagree on ideas, information, theories, or opinions and are unable to reach a conclusion. Also, conflict occurs when a person receives new information that doesn't seem to fit with what he or she already knows, or when two or more people have a conflict of interests, to name a few.
Personality clashes are another big reason for conflict, as are differences in generations. Personality clashes are rarely productive, often starting with a disagreement over business ideas and escalating to an intense dislike of one another that lingers.
But even the process of working through a conflict can bring parties closer together, help them talk things through, and feel more interested in the company as a result.
Commercial Mediation
Commercial clients want to avoid litigation because they have had some bad experience of it. Arbitration can also be a very expensive and frustrating process, which seldom produces an outright winner and can distract senior management from the job of running their business.
——–Mediation is a better way.
What is Mediation?
It's a form of alternative dispute resolution (ADR). It's an assisted negotiation facilitated by one of our specially trained commercial mediators, who assist the parties to find a workable solution to their dispute.
————-It is held in private.
Why use Commercial Mediation?
It is a flexible process, which can lead to creative, commonsense agreements and allow the parties to move on and do the business.
It's a voluntary "without prejudice" process and either party can leave the table at any point. Participation in mediation does not bind the parties to any particular outcome. The outcome of the mediation is only binding on the parties if the process has been successful and the parties have signed up to an agreed upon settlement.
Who should use mediation?
Parties who wish to resolve issues responsibility and efficiently, while avoiding the uncertainty, publicity and delays of going to court. It facilitates the minimisation of business disruption, minimise personal stress and aggravation, gets cash flowing again and preserves business relationships.
What will happen?
The mediator uses skills, which encourages the parties to think laterally, thereby allowing them to find a wider range of lasting solutions. The mediator helps parties talk to each other in ways which are non threatening, prevent misunderstanding, establish working relationships, clarify the issues, find common interests and mutually acceptable solutions.
The mediator has no authority to impose a solution. Rather he/she brings a duty of impartiality to the parties, has a duty of confidentially and has no vested interest in the outcome.
Where and When?
Mediation can happen anywhere, ideally on local neutral territory for the parties. Even when a dispute is on its way to court, mediation can provide a rapid settlement with less expense and aggravation.
Who attends?
Only the mediator and the parties to the dispute, normally attend.
Its best if the parties come without their advisors. If either party requests permission to have their advisors present, for reference purposes, then we would advise the other parties to do likewise. Please note that the mediator will focus on the direct parties, not on the advisors.
Save time and money
This is a much more economical process that litigation. Our fees are sensible and are calculated on a rate per day basis. In commercial disputes costs are normally shared between the parties. Travel and other incurred costs are charged as extras.
How do I begin?
Give us a call at:
053-9147774
087-2413513
blaise@mriwex.ie
Case History
The following case history profiles a typical type of dispute which we have successfully concluded.
Tom ran his own business for thirty years. Four years ago his son John joined him as a partner. Tom still did everything his own way and made all the decisions. John, encouraged by his wife Mary, wanted more say, if not he would leave and set up in opposition. Our mediator took both parties through the Dispute Resolution process, which lasted for a number of sessions. These sessions were held privately in the mediators office at times convenient to Tom and John and Mary. The mediator allowed each side to air their views, needs and concerns at their own pace and intensity. The process allowed the real deep concerns of both parties to be put on the table. Once that was achieved, it was possible to broker a solution where the real concerns of both sides was catered for. The mediated agreement, gave John the extra scope he needed, Tom the security and more distant involvement he wanted and allowed the business to thrive and prosper into the next generation.