Blaise Brosnan is a wise man. In this readable, clear and incisive book Jack, he shares his wisdom with us. We are better for the experience – if we choose to be.
–  Brendan Howlin, T.D., Minister for Public Expenditure and Reform.
Fantastic book…. A marvellous read.
– Alan Corcoran, "Morning Mix", South East Radio.
A great book…most interesting
– Michael Doyle, " I Remember", South East Radio
Blaise Brosnan is our Jack. He continues to influence us as our mentor, critic and advisor.
– Rachel Doyle, Arboretum Lifestyle and Garden Centre, Leighlinbridge, Co. Carlow
I admire Blaise Brosnan's motivation, dedication and work ethic and above all else his persistence as a player. 'Playing' involved persistence, understanding  the value drivers, constant innovation, commitment, pragmatism and work.
– Owen Killian, CEO, ARYZTA.
Success in business begins with the individual. Ultimately, slf-belief, emotional resilience, discipline, and unrelenting personal commitment drive business performance. Blaise Brosnans's Jack is full of insights and nuggets of wisdom.
– Paul Hennessy, Partner, PricewaterhouseCoopers
… plenty of food for thought.
– Eileen O'Connell, managing director, Interactions Ltd, Co. Wicklow
I'm reading and enjoying Jack
– Sabine, SRA accounting.
It's a fantastic read
– David Walsh, Netwatch.
Good on you Blaise
– Lorraine Claffey Didek
 Thank you
– Teresa Keogh
 It was fantastic Blaise
– Denis Coleman
I am no longer the limiting factor. Thank you.
– Jacqui McNabb 
Well done Blaise.
– Tom Banville, Acting CEO, Wexford County Enterprise Board.
Blaise, Best of Luck with Jack.
– Fleur Creed, chairperson of Wexford Management Forum (WMF)
A great success and a testimony of what people really think of you.
– John Dempsey, AirconMec
I'm looking forward to getting to know Jack.
– Ronan Furlong
 I'd like to order ten copies to give as presents to our clients.
– Brian Murray
It will bring inspiration to many and it will be very useful in helping our thought process.
– Philip Scallan, Celtic Linen
Enjoying it. You would definitely feel more proactive after it.
– Agnes Relihan, Limerick County Enterprise Board.
The stuff of which success is inevitable.
– Simon W. Kennedy
It's very good. It is more authentic than any of the other stuff.
– Tim
I really enjoyed your first book and dip into it from time to time.
– Carol Crosbie, Sales Results
The first book I've read from cover to cover.
– Pat Lee
Who wouldn't want to read the 198 nuggets of wisdom from a Kerryman? –
Senan Cooke.
I found it to be a fascinating and educational read that cause me to think and reflect at every  page . Can't wait to read it a second time.
– Niall Brown
I really enjoyed reading Jack. My grandmother's outlook values and beliefs were so similar to those you articulated in the book. Nana's quote was: "There are lots of people who can figure costs, but very few who can measure values. Your book reiterated that for me."
– Eleanor Forrest.
I find a reading a chore. Except your books!
– Robert Kelly
I will recommend it wherever and whenever I can.
 – Tom Bermingham
A beautifully written book that captures the essence of life and its influences and relevance to business. It draws out the key lessons from Jack's life experiences and how ultimately it shapes his success in balancing life and business.
– Breege Cosgrave, Wexford County Enterprise Board.
I loved your book Jack. I could not put it down.
– Linda Tobin
A fabulous book – Helen
Jack is fantastic, even though I admit to not having quite reached the last page yet. I think I am intentionally prolonging it.
– Anna Wickham
Parents give us three things that are the foundation stones of our lives – a loving environment, educational opportunity to pursue whatever our dreams are, a set of personal values to act as our moral compass. Money is a good barometer of success but not happiness.
– John Conway, MBA,

As Jack progresses through his life, the knowledge gained through the University of Life or the School of Hard Knocks is shown to be of equal importance to Jack's success as his academic qualifications.
– Robert, Wicklow
I read Jack and truly enjoyed it.
– Sinead Meaher
 Is a must read for any budding entrepreneur or business owner. I really could relate to the different characters in this book as if they were people I've known and met along my life so far. As I read each chapter, a switch clicked in my head with how relevant it was to my past and current situation. A great read.
– Denis Fielding, President, Wicklow Town and
District Chamber
The most interesting read for as long as I can remember… this book certainly has put to rest a few ghosts of mine. Thanks.
– John Doran.
Jack is an easily identifiable figure whose experiences and insights explain the business of life and the life of business in practical, relevant and familiar terms.
–  Brendan Byrne, Agri-business consultant.
Blaise Brosnan has changed my life. He taught me the meaning of the world Focus. Many thanks.
– Nuala Hickey, Hickey's Bakery, Clonmel, Co. Tipperary
My Mom, Maree, just sent me over your book with my youngest brother on Friday. I started reading it and I couldn't put it down. I just finished it today and wanted to drop you a line to tell you how much I enjoyed it and how applicable it is to every walk in life.
– David Lyng, restaurant manager, Annapolis, Washington DC, USA.
"Hello Blaise, thank u for writing Jack. I love the way you get your message across. I really enjoyed the read and the journey with Jack. There is a lot to learn from "Jack"
Sinead Maher
"I am really enjoying Jack's journey and it reminds me of some great storeys my father told me of his childhood in Kerry. Like all good stories there are great lessons to be learnt from them. Blaise Brosna's practical way of translating those lessons into effective business skills make JACK a must read!"
Tadhg Kenny  Director of Máise Interiors Ltd, Dublin 
"I often wondered exactly how to artificially inseminate a cow and I'd forgotten what a half shift was.   This story takes you right back to school, to the challenges, fears and often loneliness of childhood and youth and what you draw on to get through. The early life lessons are so crucial to how we operate and how we bring them into business, how they enable us and how they can limit us. Jack is quite a character and once you start on his journey you have to keep going. Everyone will see the parallels with their own lives and how to use the resource of their own experiences. It's a great story and is subtly laced with many business lessons which as an excellent business coach the author can't resist putting in for the benefit of the reader. A business nugget for me is the way Jack managed to get his colleagues to work together and work smarter.Frank Heath,Design Security Systems Ltd
This book from the off is full of nuggets of wisdom which have been communicated clearly and are inspiring for the reader. It allows the reader to exercise their freedom to utilise their talents with peace of mind and a good conscious. As you are reading you are learning. It challenges and helps you to be a good leader, teacher and manager of both yourself and your business. I believe that it should be part of the school curriculum, as you can build greatness from a young age.It shows incredible humanity.Thank you Blaise for showing me another insight into my life. Jennifer McGreery, Kilkenny.
Leslie Codd has read JACK.
"Hi Blaise. Hope your keeping well. Read "jack" on holidays this year. Really enjoyed it. I think everyone can relate to jack and the way he was reared in 1950sIreland. I have handed it around to a few people and they also raved about it. I suspect the core character has more than a few similarities to yourself…..? Hope to catch up soon. Best of luck and continued success. Leie.
Hello Blaise,
Just a note to thank you for penning "Jack".
Coming from a small farm in Kilcummin,  I really connect personally and deeply with Jack's story which resonates with a keen sense of people and place.
I now work in the coaching and training industry and your book, I believe, could serve as an excellent primer for those starting off on a career journey.
Will be recommending it at my classes!
Continued success to you,
John Herlihy.
Blaise, thank you for all the wealth of knowledge I gained through your published books.    I wish you a very happy Christmas and continued success with future publications.
Kind regards
Ann Sally
Mercer Human Resource Consulting
Dear Blaise,
Thanks for the good advice, which follows on many bits of good advice I have learned from you over the years.
I would like to recommend your latest book, Jack, as a great New Year present for anyone with any interest in building a business.
It combines sound business strategies combined with what is almost a social history of Ireland in which JACK shows the lessons to be learned from other people's experiences.
By weaving your advice into life as it was lived in Ireland, and still is, you bring it to life.
Wishing you every success in the New Year,
Jimmie Parkes
Hi Blaise,
A belated Happy New Year to you! Wishing you health, happiness and prosperity for 2012!
Your nuggets of wisdom always serve as a call for action! You're new book Jack is fantastic – I haven't finished it yet (I'm not much of a reader in the evenings so I'm still at it!). I hope all is well with you! I'm keeping my eyes open for the next Blaise Brosnan course in the Carlow CEB so see you soon.
Kate Gaynor
Having completed the OMDP facilitated by Blaise some years ago, I now refer to his book Jack-business lessons from life, life lessons from business,  and use it to inspire me and keep me going."
LorraineClaffey Didek
Blaise, while I was on holiday in the slums of Nairobi in Kenya I took the time to read you book "JACK" (one of the few books that I have ever read) and I have to say it had a profound effect on my thought process in relation sorting out my company affairs. I came home fromAfricawith the view that I didn't need to be backed into a corner in relation to the critical outstanding matter. By reading Jack I was better able to understand that there were a number of other options opened to me. More importantly I was willing to accept them as an outcome. I worked on my strategic position so that I had all my other options ready to go and at the next meeting with the other sides solicitors, I didn't fall for their tactics and put on the table my alternative proposal. In addition I had decided my WAP.
As a result of this we signed an agreement yesterday with terms that are much more favourable to me.I would like to thank you for the lessons that I learned from your book Jack. Some of these lessons have proved invaluable to me during these delicate negotiations.
Pat Ryan, North Cork.
Blaise has a wealth of knowledge and expertise in business and life coaching. I have heard Blaise speak on a number of occasions and found him to be extremely personable, motivational, interesting and a man who really cares. It's with Blaise's help that businesses have gone from strength to strength and are highly successful following his advice. Blaise has a very hands on approach while objectively looking at results.
I cannot recommend Blaise or his books highly enough.
Olive Condron.
Testimonial:
If you are a business owner or manager, taking part in Blaise's Management Development Programme will certainly be one of the best gifts you can possibly give to your business! His in-depth knowledge and experience coupled with his relaxed and personable approach to teaching is a winning combination. I enjoyed the programme so much that I have not hesitated in recommending it to many business owners since.
Bianca Divito, Divito Studios Art Glass.
Thoroughly enjoyed You are the Limiting Factor and even more so Jack (as you suggested I recognized myself and many others I know within its pages). Now that I'm back in the UK on my second tour of duty and managing a manufacturing operation I'm getting a chance to implement many on the strategies set out in You are the Limiting Factor. Many thanks to my wife Jacqueling for buying it at one of your guest speaking presentations and Mags Kirwin of Goatsbridge for recommending you so forcefully at one of her in home networking social evenings.
Gerry O'Keeffe
Irish Times Book review re JACK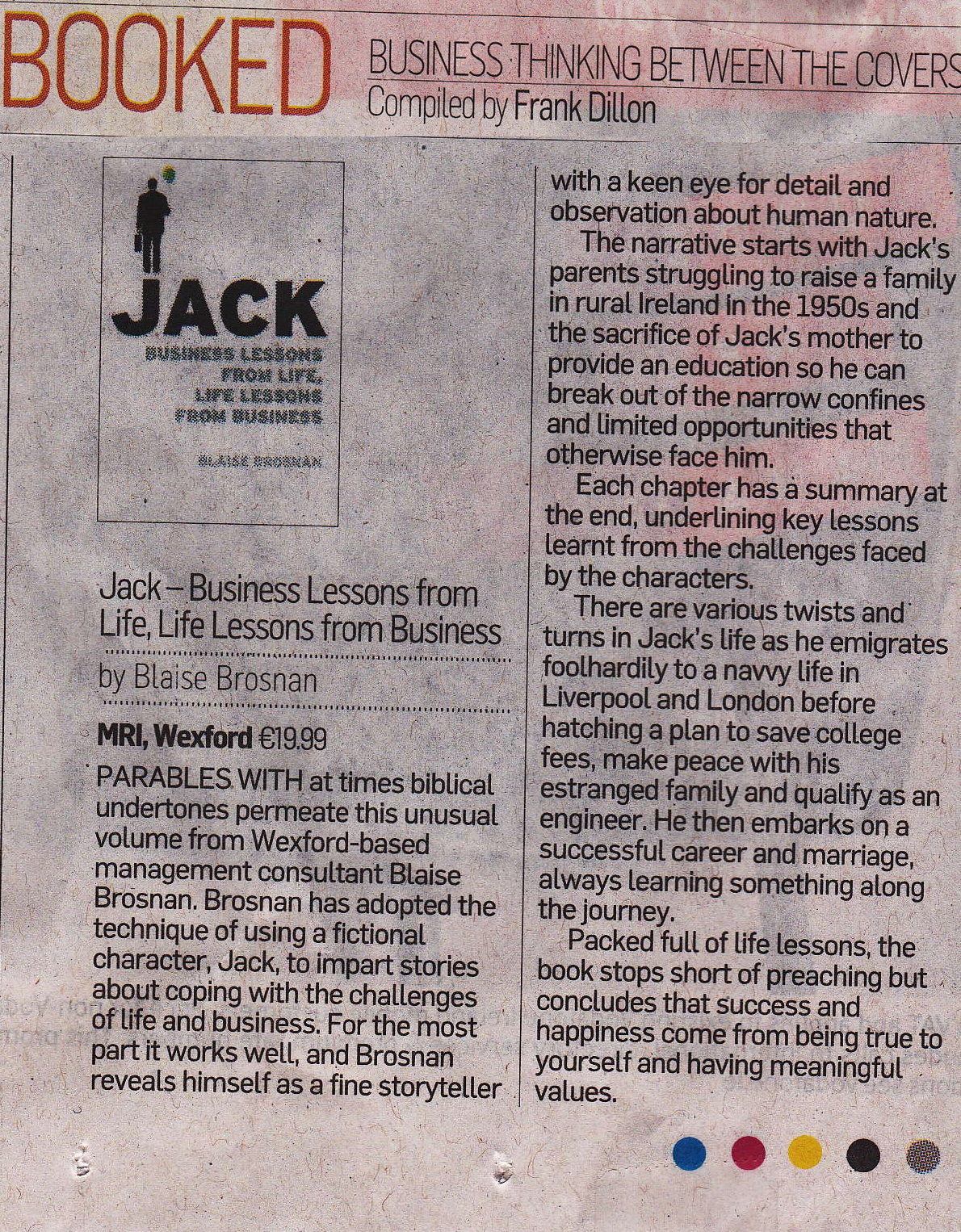 "having attended a number of seminar's and training courses with Blaise over the past few years , I had felt that I had learned quite a bit from Blais. As a result the expectation for this book was very high, while at the same time I was not convinces that reading the book was going to benefit me anymore than just revisiting some of the very valuable information that Blaise had already departed upon me during his training courses. I found myself being pleasantly surprised however when I started to read "JACK". The book exceeded my expectations on many levels, from an educational, motivational and an experience point of view both personal and professional. I found it a very inspirational book and at the same time covering many learning points both old and new. I could not recommend this book highly enough and I would have to say that  I thoroughly enjoyed reading it on a recent holiday."
Blaise I would like to wish you every success with this book and I will be looking forward to reading your next.
Fergal Kearney Aptus Broadband.
Blaise I wanted to email you to tell you that I have only picked up your book in the last month to read and that I find it amazing – THANK YOU!
Kind regards,
Ruth Kinsella
Very inspiring book thank you, keep up the writing you have it in spades…
Stephen.
"I am near finished reading JACK I could not leave it down when I started great stuff .
Mick Browne"
"Hi Blaise – Jack sounds like my teenagers! Every time I have to tackle a situation with the boys and with life, I try to remember "choose your battles"."
Maureen O Neill.
I finished Jack over Christmas and certainly got a good few points from it. Great read!
Joe
Enjoyed reading Jack over the last few days nearly finished . Frightening the parallels I had with him in some ways,  your  description of farming mentality and particulary boarding school was on the money ..not as lucky as him on the football field though !!.Great lessons in it all .
Talk to you on monday.
Best regards
Tony Hayden
Codex Mechanical engineering Ltd